Little Kyoto "Hitoyoshi" below
Natural hot springs under the starry sky
Spacious large bathroom.
Looking down on Hitoyoshi city below
In the open-air baths on the hill,
Spectacular sunsets over the mountains and star-filled skies.
You will enjoy it.
A spacious sauna is also available.
Enjoy Hitoyoshi Onsen, a hot spring of beauty.

Spring quality

Chloride spring (hydrogen carbonate hot spring) fountainhead temperature 49°C

effect

Neuralgia rheumatism, fatigue relief stress relief, joint pain, muscle pain, frozen shoulder, digestive system, neuralgia, bruises, cold sores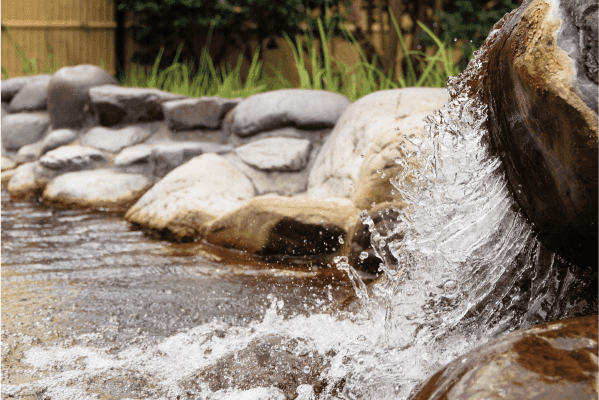 large public bath
The large bathhouse boasts an open-air bath and a spacious sauna with a panoramic view of the sunset that stains the Hitoyoshi Basin and the star-filled sky.
Business Hours

General 6:00 - 23:00
Lodging 6:00 - 24:00

Guests staying at the hotel

free of charge

General Customers

Junior high school students and older ¥600
Children (4 years old to elementary school students) 300 Yen
Free for infants (under 3 years old)

*The 26th of every month is "Furo no Hi" (day of the bath).
Junior high school students and older: 300 yen (half price)

private family bathhouse for charter
There are a total of six family baths.
The indoor and outdoor baths in one room are very popular.
Business Hours

10:00~23:00
(Reception until 22:00)

Guests staying at the hotel

Basic fee ¥1,000 / 1 hour (for 2 persons)

General Customers

・Basic fee (weekdays)
1,800 yen / 1 hour (for 2 persons)

・Basic fee (Saturdays, Sundays, and national holidays))
2,000 / 1 hour (for 2 persons)

(Children of elementary school age and younger accompanied by their families are free of charge)
600 yen per additional person
30 min. extension ¥500
rest after a public bath
A natural hot spring and a relaxing Japanese-style room are available as a set. Day-trip guests are delighted with the service.
General Customers

Basic fee ¥4,400 / 2 hours (for 2 persons)
Rest in Japanese-style room + large public bath (private family bath, etc. are extra)
Reservations must be made at least one day prior to the scheduled date.
For use of more than 2 hours, an additional charge of 500 yen per 30 minutes will be added.
Additional ¥1,100 per person (Children of elementary school age and under accompanied by family members are free of charge)